Magic: The Gathering Arena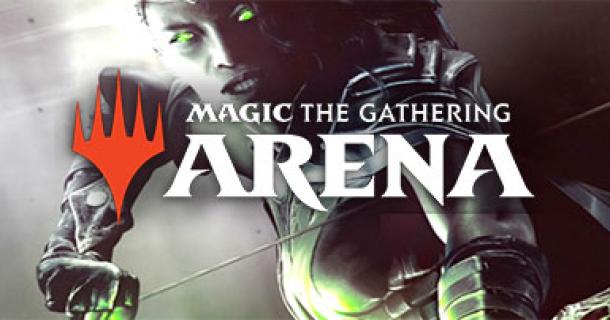 8.2
from
10
-
1
Reviews
Magic: The Gathering Arena Cross-Platform
Magic: The Gathering Arena
Game description
In Magic: The Gathering, you become a planeswalker, a powerful wizard who draws magical power (mana) from the land and uses it to summon mighty creatures.

Magic: The Gathering Arena was developed by Wizards of the Coast`s in-house Digital Games Studio and transfers the sophisticated strategy and gameplay mechanics of the popular card game to fast-paced and intense head-to-head combat on the PC.

Developed by Wizards of the Coast`s Digital Games Studio, Magic: The Gathering Arena brings the complex and strategic gameplay of the popular tabletop card game to the PC now. In Magic: The Gathering Arena, players can jump right into competitive play with pre-made decks provided in the new tutorial. Decks can also be created and customized extensively thanks to the largest collection of cards in digital CCGs. Fight your way into Magic: The Gathering Arena to participate in Magic`s Mythic Invitationals tournaments. The game is free to download and offers players the opportunity to win rewards such as in-game currency, cards, and booster packs.

YOUR GATE TO MAGIC
You know the name. Now you can download the strategy card game that started it all and play it on your phone. Unlock powerful decks, play easy to secure rewards, and jump into the action of different game formats for players of all experience levels. There`s never been a better time to get into Magic.

No EXPERIENCE NEEDED
New to Magic? No problem. Play the tutorial and practice against the AI to learn the basics. Play casual matches to improve your skills at your own pace.

CONTENT IMMEDIATELY AVAILABLE
Unlock 15 unique decks and find your own play style. Collect daily rewards to expand your collection and build your own powerful decks.

Play with PERSONALITY
Let your deck tell your own story with the immersive world of Magic and vibrant illustrations. Proudly showcase stunning cosmetic options like avatars, card sleeves, and companions.

MORE WAYS TO HAVE FUN
Try a variety of game modes like Draft and Brawl. Participate in in-game special events to win great prizes and maybe even compete in qualifiers as the next e-sports pro!
Facts
Type

Setting / Genre

Charts Position

Number of players

Project orientation

Development status

Publisher

Rounds length

Time setting

Language

Game effort

Game website

Download App

Report error / problem