Raid: Shadow Legends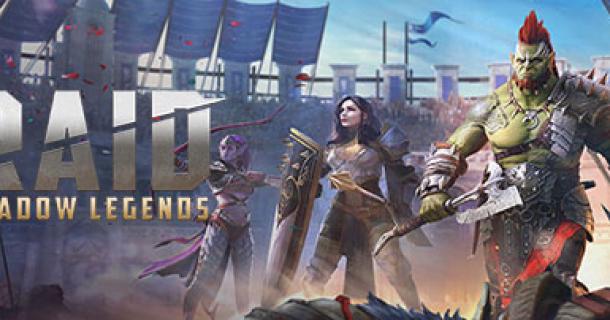 8
from
10
-
1
Reviews
Raid: Shadow Legends Onlinegame
Raid: Shadow Legends
Game description
The realm of Teleria is in the east under the shadow of the Dark Lord Siroth. Answer the call of the immortal guardian, the Arbiter, and dare to stop him. To save the world of Teleria, you must recruit legendary warriors from the forces of light and darkness. Fight your way through a breathtaking fantasy role-playing game with hundreds of powerful champions from 16 playable factions. Make difficult decisions and equip your champions with powerful artifacts to aid them in their quest. Master strategies to defeat dozens of bosses, slay dragons, and destroy enemies in the PvP arena. Team up with other players in cooperative clan challenges to achieve glory. With each victory, you'll uncover the history of the world, explore its many regions, and learn more about the threat attacking Teleria. To become a legend, you must do more than become a hero - you must lead!

INTENSE PVP ARENA

Throw down the gauntlet and battle with other players in intense arena battles. Two teams compete - only one will emerge victorious. Build strong offensive and defensive teams to defeat your opponents to earn medals and unlock incredibly powerful bonuses for your champions. As you triumph in the arena, you'll also accelerate your progress through raids PvE campaign and dungeon battles, offering one of the most cohesive combinations of PvE and PvP gameplay in the genre. If you win in the arena, you win everywhere. Climb the leaderboard to earn rare items and the respect of your enemies. Eliminate your competition, destroy your opponents and climb the arena levels to earn valuable rewards.

300 MASTERS

Ask powerful warriors for help to fight against the minions of Siroth and your rivals. Remember that victory awaits those who can assemble the right team. Secure the loyalty of champions from different factions and stake your claim to honor. Approach orcs, undead hordes, skinwalkers and lizardmen to unite. Choose wisely, since each of your warriors has a unique set of characteristics and abilities that separate them from each other. Upgrade your champions to increase their stats and make them stronger. Lead your party on a quest across the game map and fight your way through castles, deserts, dungeons and ancient temples guarded by hostile enemies and potential allies.

EPIC BOSS BATTLES

No warrior can fight a war alone. You need to train your champions to fight together. Mold them into living weapons and assemble the most epic raid group ever. Whether you search the dungeons for trophies or line up together with your clan, you'll face a variety of challenging bosses. Defeat these bosses with loot, XP, and special champion drops! Battle fearsome dragons, necromancers, golems, and other evil beasts as you progress through the campaign. Conquer the Fire Knight's Castle, Ice Golem Peak, Spider's Lair, Dragon's Lair, and many more locations. Adventure is calling!

1 MILLION BUILDS

Play as you like! Choose development paths from different masteries and artifacts to develop your champions. Just like in the best old-school role-playing games, you have full control over the attributes, strengths and weaknesses of your champions. With a little time and strategy, you can train your dragonslayer towards support, defense or damage dealer roles. Evolve and rank your champions to unleash devastating special abilities, epic AOE attacks, healing powers and more as you lead them in RPG combat. Victory goes to those who select the right teams with the right abilities for the right battles. Find your strategy for success!

Facts
Type

Setting / Genre

Charts Position

Number of players

Project orientation

Development status

Publisher

Rounds length

Time setting

Language

Game effort

Game website

Report error / problem
---