Crossout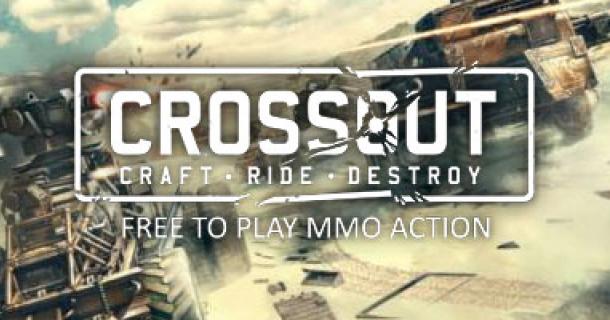 7.6
from
10
-
1
Reviews
Crossout Onlinegame
Crossout
Game description
Create unique fighting machines from dozens of individual parts, lead them directly into battle and destroy your enemies in explosive PvP online action in the post-apocalyptic MMO action game Crossout.

In Crossout, players start out with a very basic vehicle equipped with a fixed cannon. As they fight their way through the game's rough terrain and defeat enemies, players accumulate materials that can be used to improve and upgrade their vehicles. Additionally, players can also purchase these materials from other players via an online auction system. Although players have virtually limitless customization options to construct better and better machines and vehicles, realistic changes to the vehicle's behavior and performance must be taken into account for each part.

No two vehicles in Crossout are the same, because players can build any type of combat vehicle - from a fast buggy to a heavily armored behemoth. This also shows what type of gameplay they prefer. With full customization, Crossout offers players thousands of ways to modify their vehicle - in shape, armor, armament, support system and, of course, cosmetic enhancements.

Players also have a few more options in the area of destruction they want to bring upon the enemy: Combat vehicles can be equipped with an explosive mix of weapon systems. These include chainsaws, machine guns, rocket launchers, drones and even equipment to become invisible on the battlefield for a short time. The game brings an advanced damage model and every part the player destroys on an enemy vehicle affects the overall performance of the vehicle and is also visually recognizable.


Unique player-created combat machines from a wide variety of parts - from maneuverable buggies to heavy tracked vehicles to hovering weapons platforms.
Create vehicles of any design from dozens of parts with a wide range of armor, armament and auxiliary systems. There are no limits to your creativity!
The intelligent damage model means that the destruction of individual components has a direct impact on the relevant vehicle functions.
From chainsaws and jackhammers to machine guns, rocket launchers, drones and camouflage field generators, you have a huge arsenal of weapons at your disposal.
Design new, advanced components in your own workshop and offer them for sale on the in-game marketplace.
Prove your strategic skills
Facts
Type

Setting / Genre

Charts Position

Number of players

Project orientation

Development status

Publisher

Rounds length

Time setting

Language

Game effort

Game website

Report error / problem
---