KSM-Soccer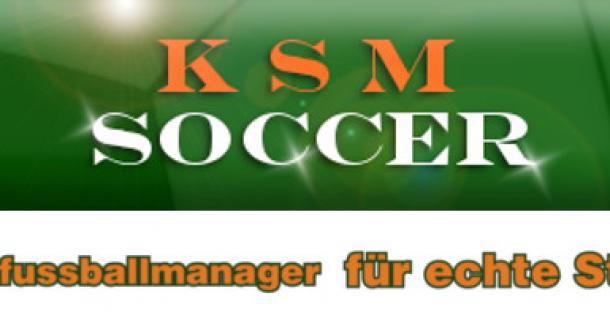 7.02
from
10
-
6
Reviews
KSM-Soccer Browsergame
KSM-Soccer
Game description
After a change of operator, the online soccer manager KSM Soccer went steeply uphill. Many small and large updates made in the last 2 years from a traditional browser game, a top current football manager.
All is based on a self-developed realistic calculation script. 4 times a week there are match calculations for championship, cup or friendly matches - every Tuesday, Thursday, Saturday and Sunday.

This gives you enough time between games in this online football manager to choose from the extensive settings options and optimally adjust your team to the next opponent. The game system, tactics and player characteristics must be taken into account, as well as the referee or the orientation of the opponent.

Since there are no live games at KSM-Soccer, it is necessary to plan lineup and tactics changes in advance for each match. For example, do you want to save energy when you have a 2-goal lead or do you want to throw everything forward again when you are behind?

After the calculation, you can follow the game in an exciting live ticker. In addition to the sporting responsibility that a manager bears in KSM-Soccer, the economic aspect must also be managed. This involves acting skillfully on the transfer market, finding sponsors, further developing the stadium and the team, or negotiating contracts with players and employees.

You can do all the important settings in 5 minutes a day, as well as optimize many things with more time and attention to detail. KSM Soccer is an online soccer manager in which you can choose from 50 nations and 6300 clubs. There are top clubs from a 1st league as well as amateur clubs from a 3rd league to choose from. You can be active in a less competitive country (low difficulty) or in a country with many managers (high difficulty).

In any case, you can expect a helpful and active community of several fellow players, who are regularly involved in the further development via polls!

The most important facts about the online football manager:

realistic calculation script
extensive tactical setting options
already with 5 minutes per day the most important settings are made
competition with real managers as well as with artificial intelligences
decide about line-up, tactics, training, transfers, youth development, stadium expansion, sponsoring and much more
4 times a week match calculations of championship, cup or friendly matches (Tuesday, Thursday, Saturday and Sunday)
Club allocation takes place mostly immediately - at the latest however after 2 days
selection of 6300 clubs from 50 nations
in addition daily training, transfers and other random events
game presentation in exciting live ticker
Easy access through clear menu navigation, a comprehensive tutorial and a dynamic ToDo bar
Exchange with other players and participation in special actions in the forum and on Facebook
regular polls to help shape the further development
Long-lasting fun is guaranteed with our online soccer manager. Register now. We are looking forward to you!
Facts
Type

Setting / Genre

Charts Position

Number of players

Project orientation

Development status

Publisher

Rounds length

Time setting

Language

Game effort

Game website

Report error / problem