Mighty Quest For Epic Loot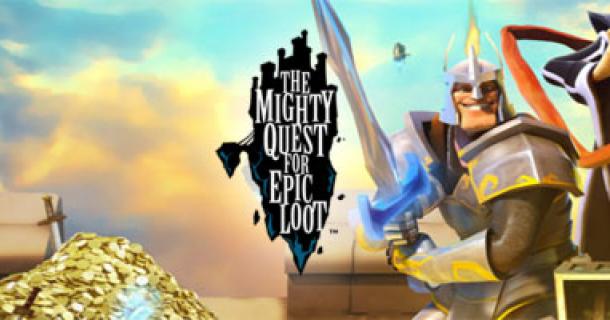 9.5
from
10
-
2
Reviews
Mighty Quest For Epic Loot Mobilegame
Mighty Quest For Epic Loot
Game description
In a distant kingdom high up in the clouds float hundreds of huge castles - this is the great kingdom of Opulenzia.

But no true Opulenzian calls his country a kingdom. All of them prefer the official name "Highly respected community of feudal heroism". Opulenzia`s inhabitants are famous for their great love of jewels, precious metals, enchanted furniture, priceless clothing for their pets, and every other imaginable kind of wealth.

And they are almost as famous for their almost continuous state of war that keeps the small kingdom in its grip. Opulenzia`s heroes fight (against each other) for their most noble convictions: No pile of loot can be big enough, and no treasure is as delightful as the one you just bagged from your neighbor.

And so it persists, the heroic hunt for epic booty, with each trying to shine more beautifully, spend more, and amass more blings than his neighbor. For as the saying goes, wealth is a fancy dress, and what good is a fancy dress if there aren`t those who marvel at it.

As a newcomer to Opulencia, you quickly get to know your neighbors, for they like nothing better than to take everything you own. Everyone wants to have the most beautiful castle .at any price! The manners of neighbors are quickly learned and show you how to become the richest and most envied hero in the land.

In two-stage gameplay, players must first defend their castle by distributing traps, weapons and monsters to prevent greedy neighbors from stealing the treasure. After that, the roles are switched, opposing castles robbed and the hiding places of others looted.

The browser game offers 3 classes among which the player can initially choose. Each, of course, with their own style of play as you know it from other games:

Archer:
Just a scowl from Bullseye Bogart`s single eye, and even the most innocent baby rabbits begin to regret their previous way of life.

Knight:
As a one-man media company, Sir Edrick Pain-a-Lot has yet to see a product sponsorship he didn`t like.

Magician:
By sheer theoretical ability alone, the Baron of Boshaftingen is perhaps the most evil of all the kingdom`s mad scientists.

Facts
Type

Setting / Genre

Charts Position

Number of players

Project orientation

Development status

Publisher

Rounds length

Time setting

Language

Game effort

Download App

Report error / problem
More games from Ubisoft Entertainment
---