Days of Evil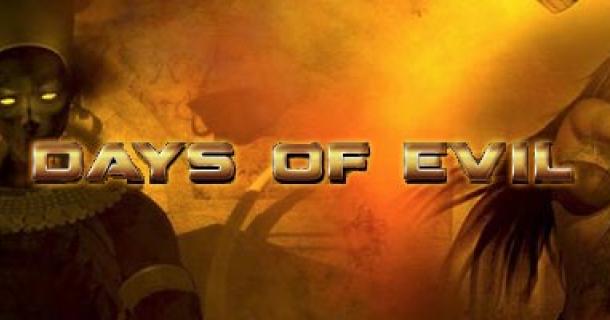 10
from
10
-
3
Reviews
Days of Evil Browsergame
Days of Evil
Game description
In the browser game Days of Evil, the player slips into the role of a sinister scientist of the 28th century, who travels back through time to rule the world with the help of his knowledge and unexpectedly gets stranded on an alien planet. Here, the goal is to subjugate this new world with a reign of terror and thus grow into a powerful and invincible deity. The player achieves this goal by assembling a powerful army from the strongest and most fearsome creatures of this planet, in order to clear all his enemies and competitors out of the way.

In addition, he must build an efficient economy to develop new technologies and powerful weapons and artifacts to research and produce.

With the help of the tutorial, the player is facilitated the game entry and through the online help, as well as the forum, he always has the opportunity to get advice in the further course of the game. With the implemented daily quests, the player can additionally refresh his gold supplies.

Situated in the fantasy realm, with a detailed story, black humor, as well as atmospheric graphics equipped, Days of Evil pulls the player immediately in its spell and leaves him thanks to the numerous tasks and opportunities also so quickly not loose again.

Days of Evil is a mixture of various popular genres. In the building construction as well as in the production of goods and trade, elements of an economic simulation can be found. The research of new weapons and technologies, as well as the expansion of the army with new units, up to legendary characters, serve the collecting instinct of the player.

Also the action part does not come too briefly with Days of Evil - the player can send its army also to dark places and against legendary beings fight let, so that they recover him the magic artifacts hidden there. Likewise, there is a ranking-based PvP arena where players can compete against each other.

Who has always rather rooted for the villain in the movies or is tired of being the shining hero, should not miss Days of Evil.
Facts
Type

Setting / Genre

Charts Position

Number of players

Project orientation

Development status

Publisher

Rounds length

Time setting

Language

Game effort

Game website

Report error / problem