Realms of Gondar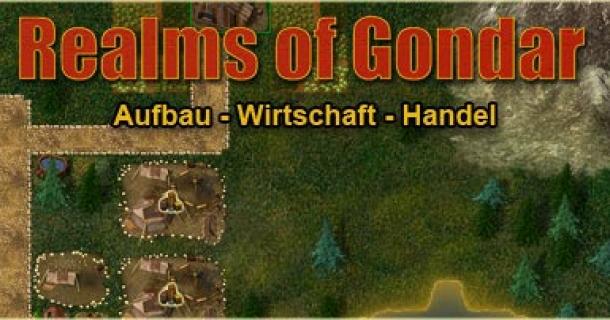 8
from
10
-
1
Reviews
Realms of Gondar Browsergame
Realms of Gondar
Game description
In Realms of Gondar, you become the liege lord of a small estate. However, you are not given much more than a few tents. Now it`s up to you to make something out of it. Use the skills of your inhabitants. You start small. Cut down some trees nearby to get wood for your first buildings. Build farms, forester`s lodges, carpenter`s workshops, dwellings and much more. Plant seeds and harvest grain and other crops. Or refine raw materials into high-quality craft goods. The construction of your settlement will demand a lot from you. Can you turn your small settlement into a large city? Can you fulfill the wishes of your inhabitants? Can you provide entertainment, religion, health, protection and education in your land? And can you still earn some gold for your treasury?

Realms of Gondar is a hard economic simulation. You have to decide which goods you produce and which you prefer to buy from allies. Will you become a wheat wholesaler or rather a furniture producer? Do you want to specialize, or do you try to produce all the goods yourself? The decision is yours.

You can expect:

4900 different lands with mountains, trees, waters in three climate zones
30 different buildings
over 40 different goods
Inhabitants with their own skills and needs
Markets that change their prices according to supply and demand
a peaceful game which is constantly evolving
.
Facts
Type

Setting / Genre

Charts Position

Number of players

Project orientation

Development status

Publisher

Rounds length

Time setting

Language

Game effort

Game website

Report error / problem