Artharia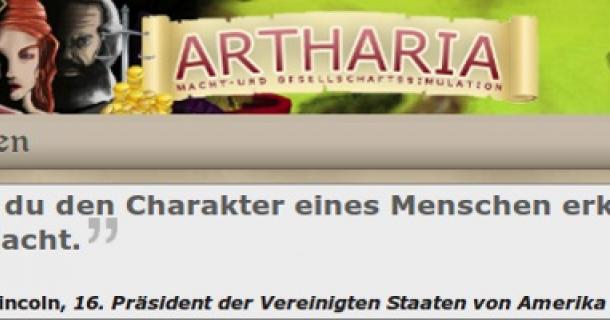 8.57
from
10
-
7
Reviews
Artharia Browsergame
Artharia
Game description
Artharia is a role-playing game of a completely different kind.
It simulates a medieval society in which it is your job to
profession, to specialize in the acquisition of a certain type of resources, or to take
or to take a political office to govern a city.
You have to eat, you can catch a disease, you have to sleep now and then
and get your house repaired if it was ruined after a storm.
Become a rough weaponsmith, start a religion or roam the country as an outlaw and make your money with
and earn your money with raids and murders.
Lead battles with your city against other cities or declare war with your alliance
the other alliances and enslave their members.

Artharia offers:
- 20 different professions (among others weaponsmith, armorsmith, alchemist, shopkeeper, dungeon master etc.)
- 5 different specializations for resource mining
- far more than 20 different raw materials and many more processing possibilities
- live battles, no click-and-wait!
- free market economy system, price is determined solely by supply and demand of the players
- NPC quests that unlock special locations or items
- sophisticated attribute and equipment system for customizing your character
- very fast support from the development team in case of problems
- constant further development of the game with player participation
- No premium accounts!
Your real budget does not matter, because Artharia is financed exclusively by donations and advertising.
Facts
Type

Setting / Genre

Charts Position

Number of players

Project orientation

Development status

Publisher

Rounds length

Time setting

Language

Game effort

Game website

Report error / problem