Poke Liga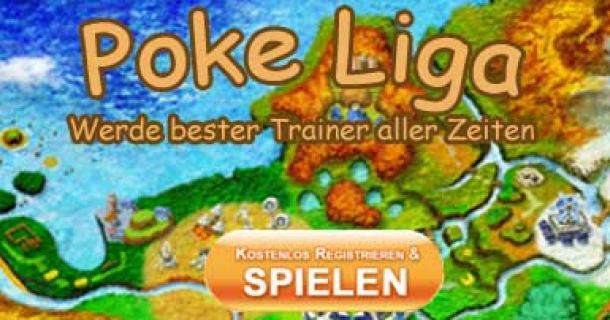 5.8
from
10
-
4
Reviews
Poke Liga Browsergame
Poke Liga
Game description
Enter the worlds of Poke League, a free fantasy adventure game / role-playing game. There you can fight against more than 800 different creatures in various maps and locations. You can use the respective strengths in attack or defense of your own creatures. But choose wisely, as this can make the difference between victory and defeat. You can also catch these creatures, tame them and train them for you. The creatures come in different races, names, characteristics and have different abilities, which then have certain advantages, individual strengths and bonuses against other creatures.

Put together your own individual team of up to 6 creatures to be used in battles. For tactical purposes, the creatures in your team can be replaced by others in your home at any time.

By giving your team its own character, you become unique in Poke League. Fight against other trainers in the Poke Arena. There you can take on challenges and win various badges.
Once you have proven yourself and won several badges, there is nothing to stop you from
to take part in the Poke League.

When traveling through the worlds, you should always be alert, because you can be attacked by wild creatures everywhere. But you can also find secrets and treasures that can be very useful to you.

In the towns you will find clinics to heal your creatures, stores to buy useful things, casinos where you can improve your wallet with a bit of luck, the Poke Arena for battles against other trainers.
An exchange center where you can swap your creatures for other creatures from other players. And much more...

Together we are stronger. Join a clan or create your own clan. This way you can join forces with like-minded people.


Explore different worlds, whether on land, water, caves or in the factory, there is something different to discover everywhere.
Find their hidden secrets and treasures.
Catch and train a wide variety of creatures. Train them and let them develop under your care.
Trade, make deals and increase your fortune.
Win competitions by making prudent decisions.
Create your own team with your creatures.
Fight with brains. Every single decision about the way you fight and defend can make the difference between victory and defeat.
Challenge other trainers with your team.
Form clans and join forces with like-minded people, because together you are stronger.
Take part in the league and become the best trainer of all time.
Facts
Type

Setting / Genre

Charts Position

Number of players

Project orientation

Development status

Publisher

Rounds length

Time setting

Language

Game effort

Game website

Report error / problem