Conflict of Nations - World War 3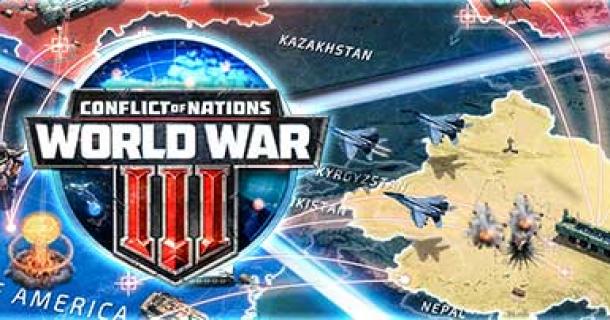 6.2
from
10
-
2
Reviews
Conflict of Nations - World War 3 Cross-Platform
Conflict of Nations - World War 3
Game description
Conflict of Nations: WW3 is an online military real-time strategy game. It is set in modern times and deals with modern, high-tech battlefield strategy. The player assumes the role of commander of a country`s national forces and must compete against other player-controlled nations. Starting with infantry, aircraft and naval units, the objective is to develop increasingly advanced weapon systems; from nuclear submarines to intercontinental ballistic missiles.

At the core of the game is a sophisticated combat system where troops are moved around the map in real time. They often take several hours to reach their mission objectives, allowing for thorough strategic planning and careful tactical execution. To ensure economic efficiency and technological superiority over the competition, each nation must be carefully managed and developed. The key to victory is researching new units while expanding the necessary infrastructure, because in modern war logistics is as critical to the war as tactics on the front lines.

Conflict of Nations: WW3 is being jointly developed by Dorado Games and Bytro Labs in native HTML5 for all current browsers. The game uses Bytro`s successful Supremacy game engine, which is the basis for online hits such as Supremacy 1914 and Call of War. The game is free-to-play, with Dorado Games offering players the option to use time acceleration and other convenience features as premium services.

Real-time tactical combat system that allows players to command a modern battlefield
Week-long rounds of play that allow for complex strategies and detailed plans
Over 100 beautifully modeled modern weapon systems such as nuclear submarines, attack helicopters, stealth strike fighters, Airborne Infantry units and many more
Weapons of mass destruction with lasting consequences for population and economy
Extensive research tree with over 250 possible elements
Resources of national economy is influenced by population density and morale
Beautiful isometric world map with over 100 countries to conquer
Refine alliance system allows cooperative games and clan challenges
.
Facts
Type

Setting / Genre

Charts Position

Number of players

Project orientation

Development status

Publisher

Rounds length

Time setting

Language

Game effort

Game website

Download App

Report error / problem